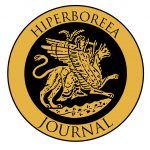 Hiperboreea (ISSN 2284–5666) is an online academic journal published biannually by the Balkan History Association. The journal publishes articles in the field of History, written in English, and book reviews, or evaluations of scholarly conferences. Our focus is the study of Southeastern Europe, broadly defined as the states situated in the Balkan region.
Without limiting its scope a specific historical period or approach, the journal covers a wide range of topics, such as Cultural History, Political History, Military History, Social History, Economic History and Archaeology, and encourages work on any historical period and interdisciplinary background.
Since its first publication in 2012, Hiperboreea has had a monthly periodicity from January 2012 to March 2013, a quarterly publication until the end of 2013, and, starting 2014, a biannual appearance.
Our activities and aims:
– A wide variety of scholarly studies on historical, social and cultural change in Southeastern Europe in the form of case-studies, diachronic studies, or theoretical approaches.
– Two issues per year, each issue hosting up to ten articles and reviews, or evaluations, and an "opinions and debates" section.
– Promoting the work of young historians at PhD level and internationally regarded scholars.
– Offering an authoritative platform of publication through the promotion of high-quality essays and articles, and offering editorial space for productive debate, through the "opinions and debates" section.
– The promotion of innovative research, both in terms of methods and techniques, and digital format.
Starting with 2018, Hiperboreea is no longer an open access journal (see the "Submission Policy"). All articles submitted to our journal are reviewed following a double blind peer-review system. Our standards impose the existence of at least two reviewers per issue, although it is customary that many more peer-reviewers cooperate for individual issues.
Hiperboreea is one of the few Romanian journals that has built a solid presence in the online environment, being indexed in the following international databases and libraries:
Web of Science database Emerging Sources Citation Index (ESCI), produced by the Institute for Scientific Information (ISI), now maintained by Clarivate Analytics (former Thomson Reuters), EBSCO, Index Copernicus, ERIH PLUS, Scopus, CEEOL, Ulrich, ProQuest East Europe, Central Europe Database, ProQuest Philosophy Database, WorldCat, International Bibliography of Humanism and the Renaissance (IBHR), Modern language Association International Bibliography, Bibliographical Information Base in Patristics (BIBP), Regesta Imperii, J-Gate, Ores, eLIBRARY.RU, Hebis, Romanian Academy Library, National Library of Australia, Oxford Bodleian Library, Harvard Library, University of Waterloo Library, State Library of New South Wales University, Vrije Universiteit Brussel, UNSW Library, Villanova University Library, Marburg University Library, Ghent University Library, Flinders University Library, Regensburg University Library, Lancaster University Library, Mount St. Mary College Library, University Library of Tübingen, University Library of KU Leuven, Simon Fraser University Library, University of Washington Libraries, Scuola Normale Superiore, Portland State University Library, Kyushu University Library, Res­earch Library in Olomouc, KVC of the Karlsruhe Institute of Technology.